APRIL 15-17, 2019
|
CAESARS PALACE
|
LAS VEGAS
Experience the world's most elite conference on marketing, CX, data analytics and digital transformation for the banking industry.

Hurry, the Forum 2019 kicks off April 15th. The clock is ticking!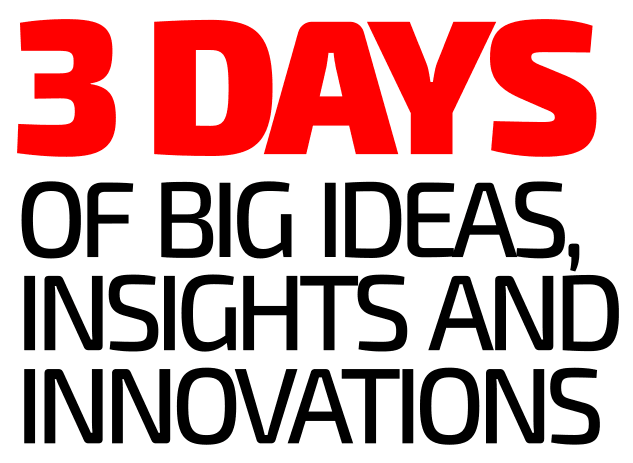 Game-Changing Strategies
Learn how to tackle the biggest challenges in retail banking with strategy sessions, in-depth presentations, live demos, and keynotes that will inspire you and your team.
World-Class Speakers
The biggest names and brightest minds in banking will give you new tools and teach you the leading-edge best practices that are reshaping financial marketing today.
Guaranteed ROI
You'll leave with dozens of new ideas and actionable insights that will build your brand and your bottom line, or we'll give your money back — no questions asked.
 THE BEST AND BRIGHTEST IN BANKING 
Over 2,000+ senior leaders from more than 750+ of the most progressive and respected financial institutions on earth will attend The Financial Brand Forum 2019, making it the most prestigious and fastest-growing event in the banking world.

0
+
Senior-Level Financial Marketing Executives
0
+
Retail Financial Institutions
0
%
Attendees Who Are VP-Level or Higher
$
0
Trillion in Assets Represented

Video Recordings
With a Gold Pass, you get access to videos of all keynotes and breakout sessions. You don't have to worry about missing any presentations. And you can watch the sessions again when you get back home.

Zappos Tours
These 90-minute guided tours show attendees what it takes to build a world-class brand. Attendees learn the "secret sauce" of culture-building from one of the best brands around.

Forum X
Short, high-level, inspirational speeches from the world's most respected thought leaders on what attendees need to do to prepare themselves and their institutions' for the future — like TEDx for banking.

Live Makeovers
World class experience designers reveal creative solutions for actual brand, branch and website projects, as real financial institutions see new ideas live on stage for the first time.

Free Espresso
Attendees enjoy complimentary Starbucks espresso beverages, served from The Financial Brand's own café stations conveniently located in the Forum 2019 exhibit hall — no wasting time getting those lattes and mochas!

Digital Toolbox
Every attendee receives a 2GB flash drive loaded with countless valuable white papers, research reports and eBooks, plus digital copies of all session slides.
Co-Host of Shark Tank, Branding Expert & Best Selling Author
Global Marketing Expert, Social Media Rockstar & Serial Entrepreneur
Futurist, Storyteller, Behavioral Scientist & Host of Hit TV Show Brain Games
Head of Strategy at Google
"Content, venue, speakers… all top notch!"
— CHARLES PETERSEN, CEO/President at Biddeford Savings
"I was blown away by the quality of speakers and sessions."
— DOUG MCGREGOR, VP/Marketing at First Federal Bank
"Any other conference is a waste of money."
— MINDY UITTERDYK, VP/Marketing at UniWyo Federal Credit Union
"Energizing and exciting! A real shot in the arm that has me thinking outside the box!"
— DANETTE HEFFNER, EVP at Citizens National Bank
"I'm so full of new ideas my brain hurts!"
— CHERYL DUTTON, VP/Marketing at Altra Federal Credit Union
"Awesome! Best conference I've ever been to!"
— JILL CASTILLA, CEO/President of Citizens Bank of Edmond
"A stellar experience and an outstanding investment!"
— MICHAEL CARROLL, SVP/Marketing at Dean Bank
"The #1 bank marketing conference in the world. Definitely worth the time!"
— TYSON DOKE, AVP/Marketing Officer at United Bankers Bank
"Relevant topics. Engaging speakers. Tremendous value for my investment."
— HOPE SMITH, VP/Marketing at Christian Community Credit Union
"Cutting edge! I am hooked, and definitely coming back next year."
— LEEANN GEPHART, CMO at Woodlands Bank
"A great experience! Well worth the money and time to attend!"
— STEVE HILDEBRAND, VP/Marketing at Freedom First Credit Union
"Really dynamic. Very inspiring! Lots to take back to my team."
— BRUNO JAUERNIG, VP Marketing at TD Bank
"Exhilarating, inspiring and positively unique!"
— TOBY HAYES, CMO at Cabrillo Credit Union
"An amazing conference! By far surpasses all the others!"
— KRISTEN WILLIAMS, Brand & Advertising Leader at Wells Fargo